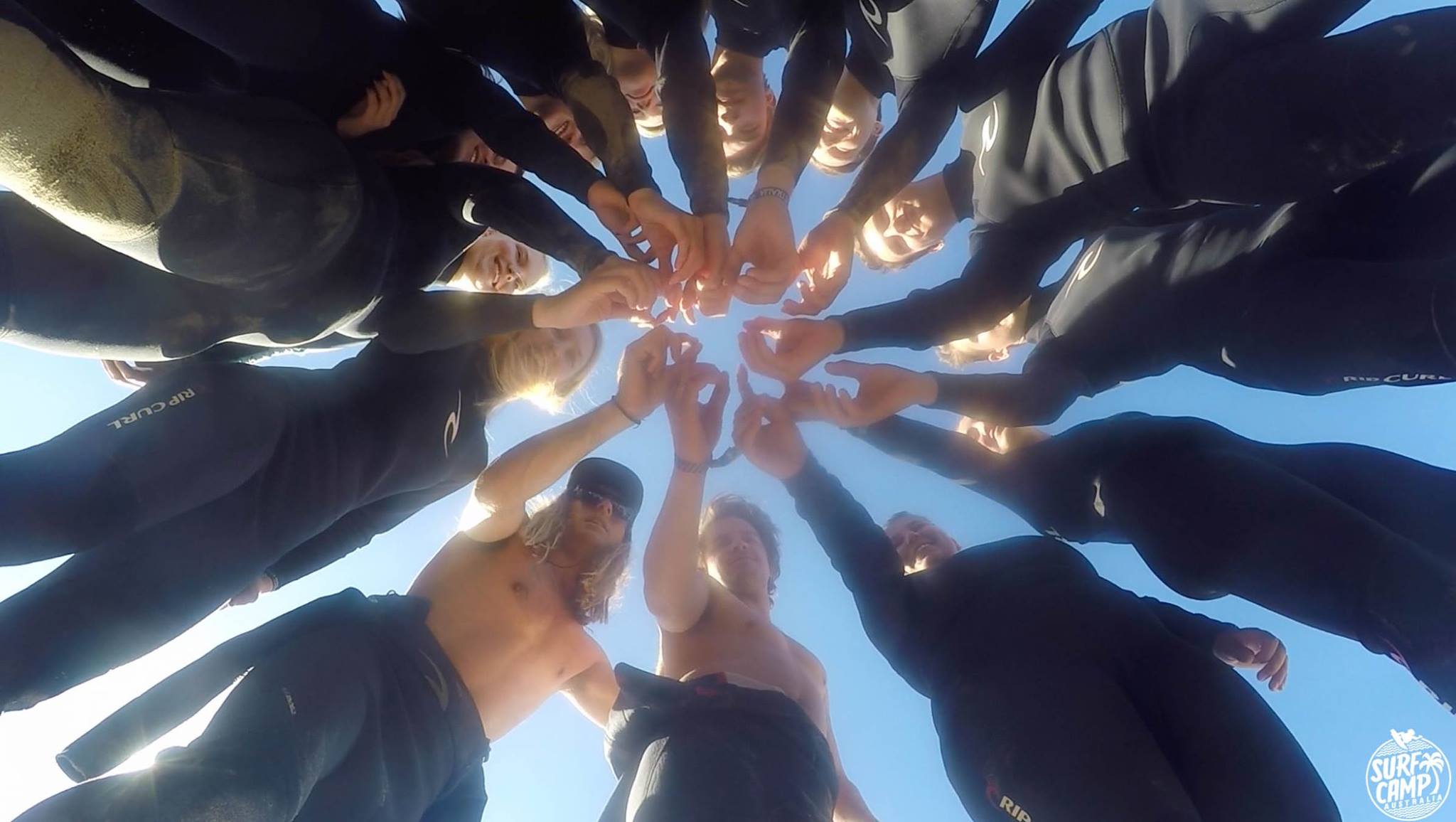 06 Oct

A Beginner's Guide to Surfing the East Coast – Part 2: Yamba to Byron Bay

Welcome back! If you've already read our first portion of the blog, then you must be hungry for more east coast surf spots…well, look no further!

First Stop: Yamba

Yamba is a town in the northern region of NSW, lying at the mouth of the Clarence River. It receives a lot of attention from travelers and is growing immensely in popularity as a surfer's destination.

The three surf spots that we'd recommend are Turners, Pippi Beach and Yamba Main Beach. Turners is a great spot for beginners, as the waves are a bit smaller, and the beach is patrolled during the summer season.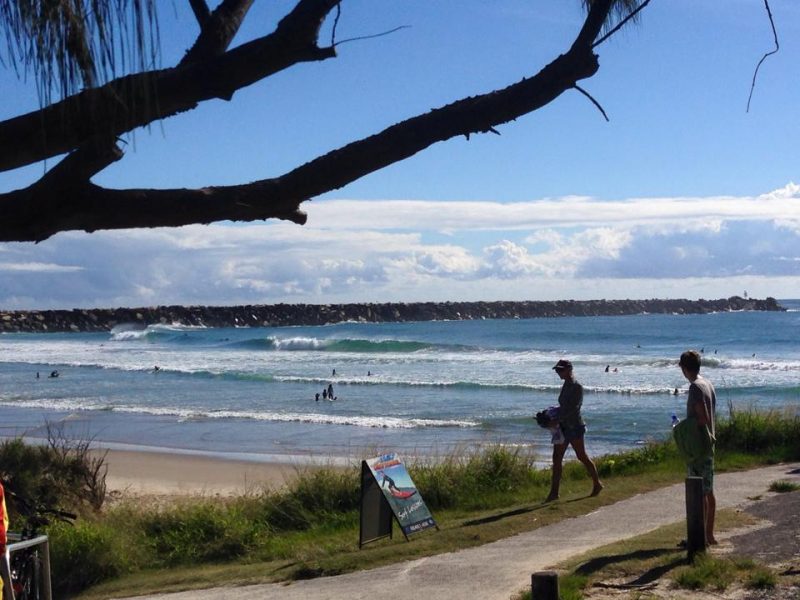 Turners producing the goods!
Pippi Beach, also patrolled in season, is popular amongst the surfing community, and it even holds its own annual competition: the Pippi Beach Surf Classic! And lastly, Yamba Main Beach is probably the most popular of the three, as it offers a snack bar, a surf club and its own rock pool for people looking for a calmer swim. This spot gets some decent swell and can be a fun place for beginners!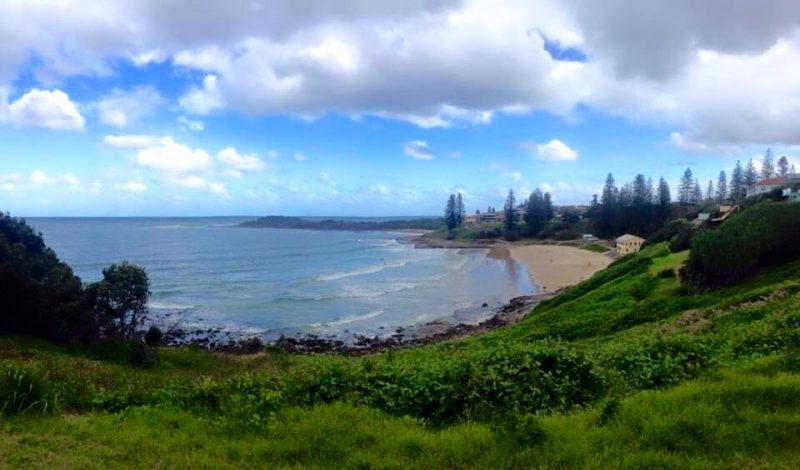 Fun sized waves at Yamba Main Beach
On the topic of Yamba, we've got to mention Angourie. Angourie is a region just south of Yamba, neighbored by a National Park, famous for its blue and green pools. While this is not a place for beginners, it's considered a sacred spot within the surfing community, treasured for its dense, pristine scenery as well as its powerful swell.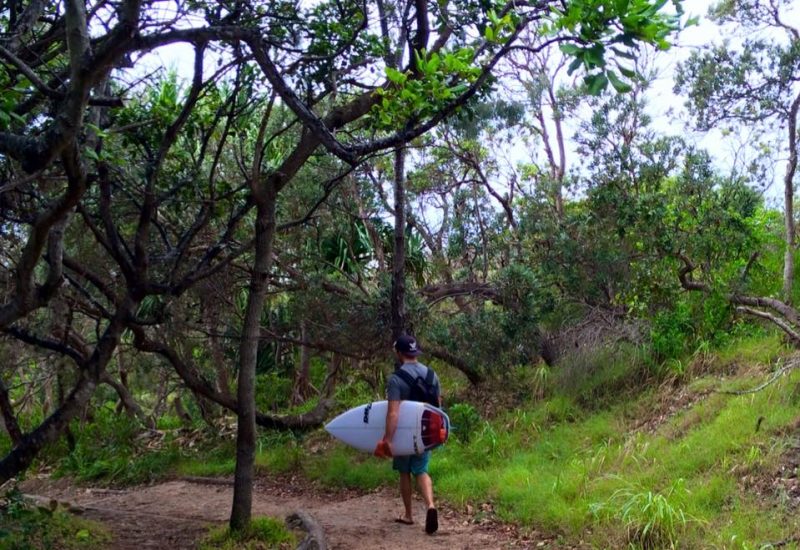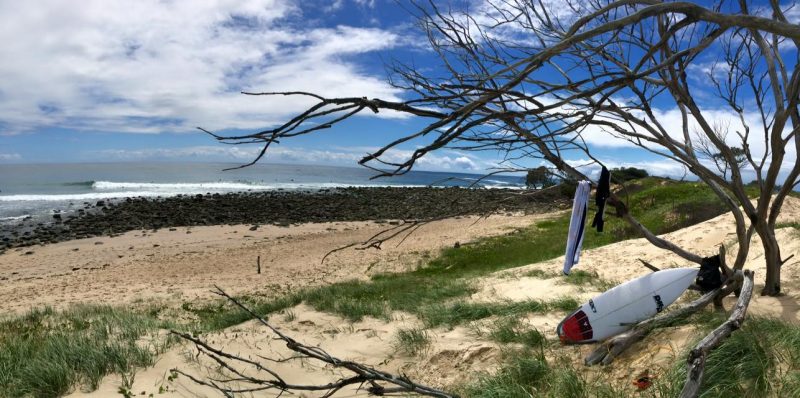 Beautiful scenery at Angourie Point
If you're looking to hang out in the area for more than a day trip, there's a local Youth Hostel which offers a wonderful opportunity to save money in your travels, as well as to meet many interesting people, locals and international travelers alike! Check the link below!
Yamba Youth Hostel: https://www.yha.com.au/hostels/nsw/backpackers-hostels-near-byron-bay/yamba/
On to Lennox Head!
Loosely known as "the new Byron Bay," Lennox is an up-and-coming spot within the surfing community. The area draws a lot of attention for its famous Lennox Head point break. If you're not sure what this means, a point break simply refers to an area where the waves hit a point of land or a group of rocks jutting out from the coastline. Keep in mind that the point break is not a place for beginners! So, stick to the following spots if you're still learning.
Firstly, we'd recommend Seven Mile Beach (sound familiar, surf campers?). This beach is a broad coastal stretch which offers plenty of space for those looking to enjoy their surfing experience away from the crowds. Reminiscent of Surf Camp Australia territory, you can see why this spot would be perfect for continuing your surfing adventure!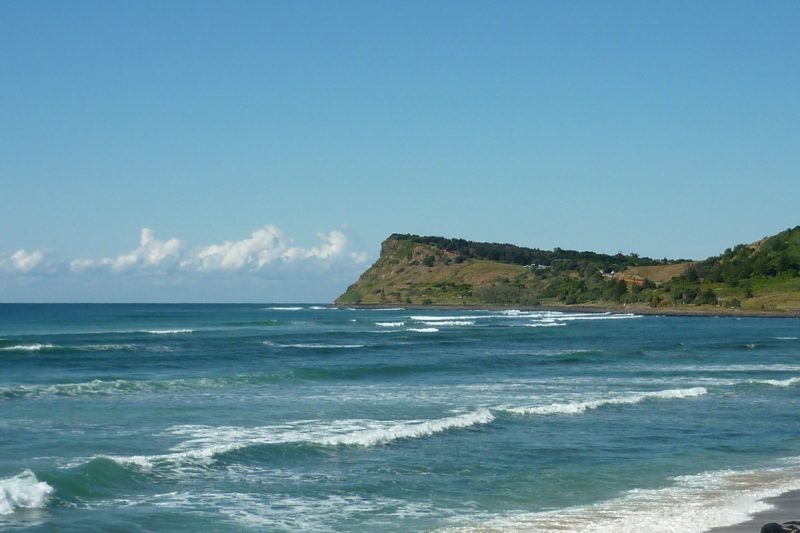 Lennox Point view from Seven Mile Beach!
*photo from My Lennox Head website: <https://mylennoxhead.wordpress.com>
Our next recommendation would be Boulder Beach. Boulder is a well known surfing spot in the area, and can offer some incredible coastal views! It's another ideal place for surfers and nature lovers alike!
Last Stop: Byron Bay!
Byron Bay is an absolute surfing must-do in Australia, as it is an international surfer's hub and offers some breathtaking views. The region gave birth to surfer's counter-culture within the country and continues to be a huge tourist destination for beach bums across the world.
With so many beach options to choose from, it can be overwhelming to make the right choice. We've narrowed down your selection to a few prime surfing spots for beginners: Tallows Beach, Wategoes and Main Beach. Tallows is a southeast facing stretch that doesn't attract too many crowds, so you'll have plenty of room to practice your skills. Plus, the views are incredible! Take a look!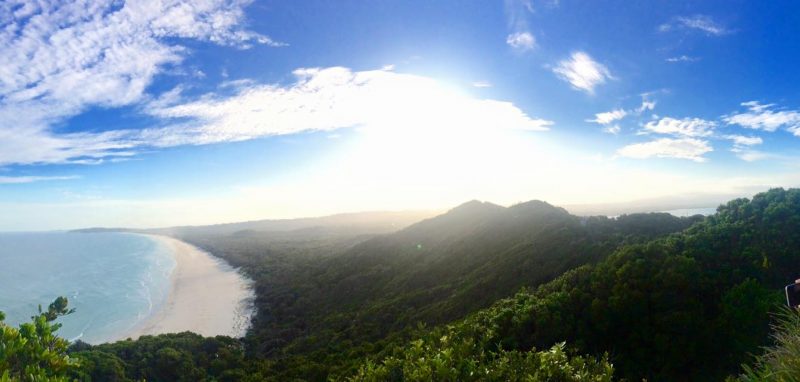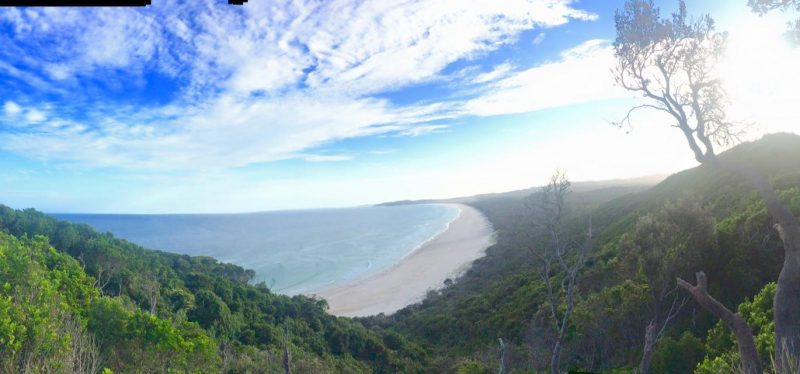 Breathtaking views from Tallows
Wategoes and Main Beach are on the northern side of the peninsula, tending to draw more attention. Wategoes is a smaller coastal pocket just south of Main Beach; it has more protected waves, making it a great place for beginners! Alternatively, Wategoes Bay is a great destination for those that aren't looking to surf, but maybe just to swim or sunbathe.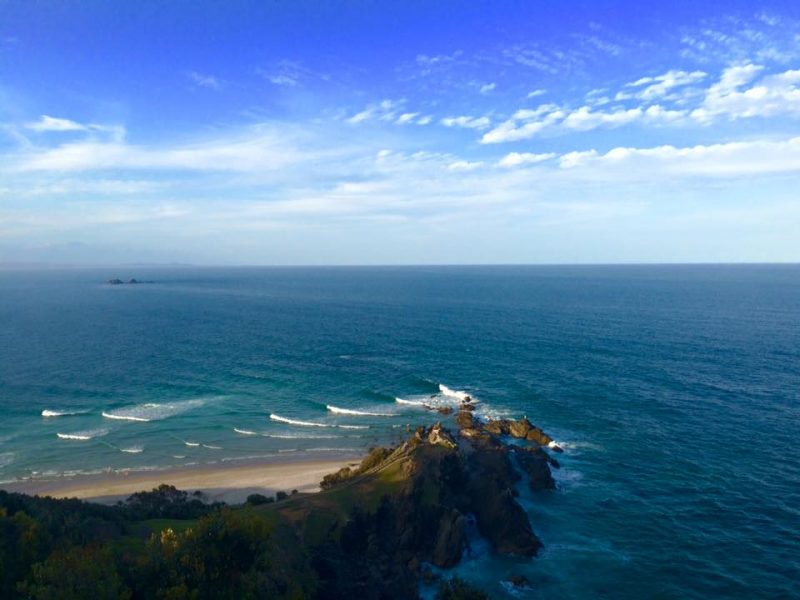 Wategoes Beach
Main Beach is the general northern coastal area of Byron. To the upper end, you'll find Belongil Beach, and at the southern end you'll find Clarke's Beach. While the entire general area is a good area for surfers of all levels, we suggest you stick to the south end if you're looking for a smaller swell.
We can't talk about Byron Bay without bringing up "the Pass". The Pass is a point break region at the tip of the peninsula (just south of Main Beach!) and is the most popular surf spot in Byron. It can definitely be a tricky swell to maneuver and gets crowded with surfers from all over of the world.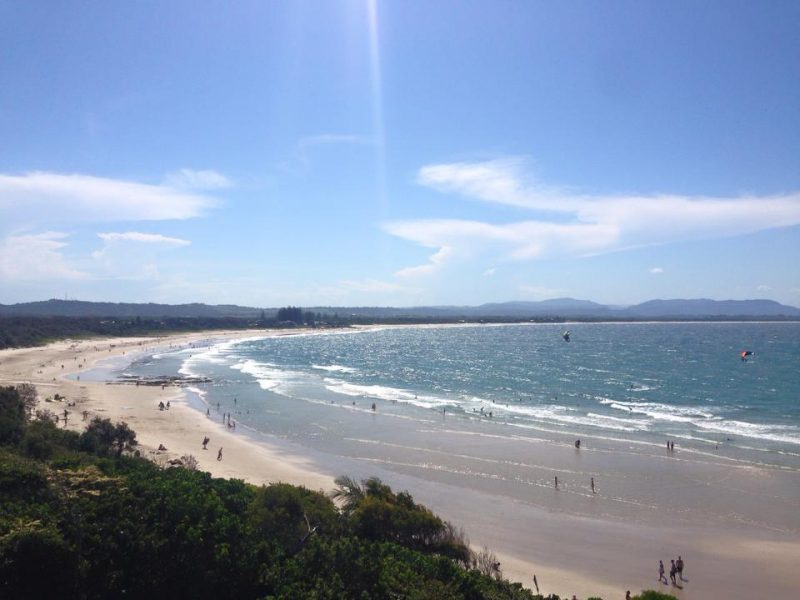 Small day at the Pass, leading down to Main Beach
Lastly, though it's definitely not a spot for beginners (just listen to the name!), we can't go without mentioning "the Wreck". This is a local favorite for Byron surfers. It's an unpatrolled beach and can produce some dangerous swells depending on the winds; so, if you're not an experienced surfer, we'd strongly suggest just sticking to the shoreline. You'll have a front seat view of the action!
With plenty more to offer besides great beaches and surfing, Byron Bay is absolutely a spot worth exploring. If you're looking to spend some time there, the cost-efficient accommodations options would be the two youth hostels in the area: Byron Bay and Cape Byron. We'll link the websites below if that sounds like something you would be interested in!
Byron Bay: https://www.yha.com.au/hostels/nsw/backpackers-hostels-near-byron-bay/byron-bay-yha-backpackers-hostel/
Cape Byron: https://www.yha.com.au/hostels/nsw/backpackers-hostels-near-byron-bay/byron-bay—cape-byron/
And that wraps up part two of this surfing adventure. Coming soon is the final portion of the guide, so look out for that! Until then, cheers, and happy surfing!