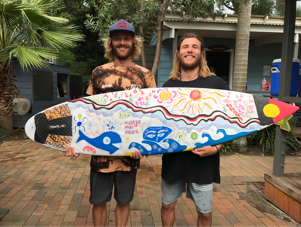 20 Jun

Kool Kids – Salt Water Dreaming Camp

Wednesday 19th, Thursday 20th & Friday 21st

April 2017

On Wednesday 19th April, Kool Kids once again hit the road to Gerroa for our annual Salt Water Dreaming Camp.  This year we had fifteen kids and our incredible team of six workers who were keen and pumped to hit the surf.

Lucy, Beau and our amazing placement student Karlie had an early start and went to set up the tents, while Mel & Evie picked the kids up. This year we were also fortunate to have the awesome, talented pro surfer Lynette McKenzie who kindly volunteered her time with us on camp. Lynette really paved the way for all upcoming female surfers today – we felt so privileged to have Lynette on board with us. We also had a few new youngsters join us for their first time on SWD Camp this year, which was really exciting and special.

We stopped at the Kiama blow hole for a lunch break, and let the kids have a bit of a stretch and play before hitting the road again to arrive at Gerroa Discovery Park which is where we camped for the whole three days.  The rest of our team had the tents set up ready for everyone to settle into.

As we all gathered underneath the shelter to begin, we went over Camp Rules and the themes for this year's camp, which were 'SURF, CULTURE & KOOL TO BE KIND'. Beau & Karlie elaborated on the fact that we were all standing on another country and explained to the kids how important it is to be respectful to the land as well as showing respect in all aspects on camp, this resonated with the kids and really did shine throughout their behaviour during the whole three days.  



DAY 1:
After lunch the kids got changed into their wet suits and were ready to hit the surf for the first day. The weather was absolutely perfect, we were blessed with blue skies and the ocean provided the goods with perfect waves for the whole crew.
After the surf we headed back to Surf Camp, had showers, got changed and had some dinner – Surf Camp Staff so kindly provide us with delicious meals each time.  We then got the kids ready for some storytelling by the campfire with the beautiful Aunty Julie Freeman, we are so grateful to have Auntie Julie share her stories with us each year, she truly captivates everyone when she speaks and is always so moved by being around us. By the end of the night the kids were sleepy and it took a while for them to drift off to sleep in their tents but it is always a late night on the first day of camp.
DAY 2:




On Thursday morning we were woken by the crashing sounds of the waves and nature outside our tents. Everyone had to be up early for a 7.30am breakfast, and we then headed straight down to the beach ready to rip the waves up around 10am.  It was nice to surf in the morning, we had so many kids including the workers catch some really cool waves and some standing up on their boards for the first time which was deadly to see.
After the surf we then headed back to surf camp did the usual shower, change, had lunch and headed out to the National Park where we were guided once again by the beautiful Aunty Dedre.
Aunty Dedre had one of her grand daughters who accompanied her through the cultural talk. The kids got the chance to look at different medicinal plants, bush tucker and traditional items and weapons. It was nice to end the session making some yarn rope as Karlie & Beau entertained the kids with some last minute fun games and activities in the park.
We then headed back to the camp-site where the kids had a bit of free time – in between having the jumping pillow and the pool they had so much fun. Our student Karlie worked so hard to organise an incredible Art Workshop, which involved painting a surfboard that told a story about the Kool Kids journey from Sydney down to the south coast for Surf Camp. It looks so good!
Karlie is originally from Nowra and being an Artist herself, she provided Aboriginal symbols and words for the kids to reference to and guided them to produce their own mini canvas artworks which was special – it was beautiful to see the kids connect so well with this activity through sharing their culture and different tribes & totems. Thank you Karlie for doing such a fantastic job with everything! It was great.
We then had dinner and the kids snuggled up in the game room where we then watched a movie and had some yummy snacks.  By the time the movie was finished, the kids were exhausted! It began to rain slightly but eventually cleared up in the morning. Everyone fell asleep with ease ready for the last final day of surfing.
DAY 3:




Early morning rise! We were awake at the crack of dawn, bodies were feeling sore (BUT it was a good sore ☺) we were already packing down the tents and had our bags piling back into the bus for our trip home. However, we had one more day of surfing to smash out!
After exceptional team work from all the workers AND the kids we were able to pack down all the tents and clean up all the rubbish around the campsite, the kids were rewarded with a small treat for helping out. We were actually quiet impressed with their cooperation and willingness to help out this year. We headed over to the Surf Camp kitchen where we fuelled our bodies up with some good brekkie for the last surf.
By 10am everyone was changed into they're wetsuits and ready to hit the water.  Again we had gorgeous blue skies and the waves were perrrrfect. It was great to see everyone getting into the water and having a good go at surfing. We saw so many kids AND one staff stand up on their boards for the first time. It was so nice to see everyone smiling and enjoying them selves. This would have to be by far the most special camp that we've had as mentioned by the workers themselves.
We headed back for lunch and a finished with a lovely presentation at Surf Camp where all the kids were acknowledged for their participation and efforts.
A massive THANK YOU to Guy, Sam, Luke and the awesome team at Surf Camp for allowing us to have this opportunity once again.  Thank you for having us, and for always feeding us so well and for looking after us.
Thank you also Lynette for hanging out with us this year, we really appreciate you're time spent with us and how you went above and beyond to provide the kids with some really cool surfboards to surf on whilst on camp and all the other many kind gestures, you truly have a heart of gold.
Last but not least, thank you to our DREAM TEAM here at Kool Kids. We just want to give a huge shout out to Mel for doing such a fantastic job in organising this phenomenal camp every year. We are super grateful.
Well done to everyone that was apart of it this year, it was great fun.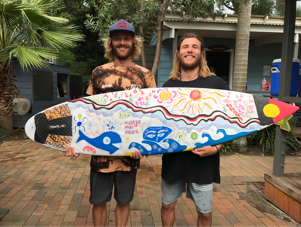 Written by: Evie Willie