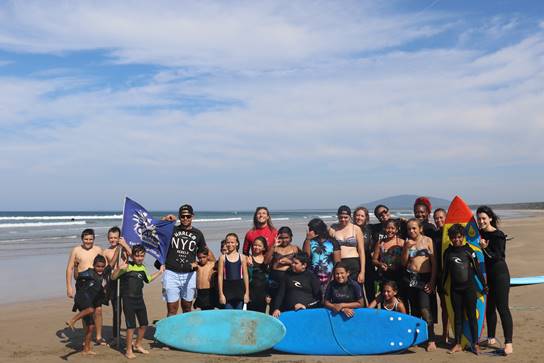 20 Jul

Kool Kids – salt water dreaming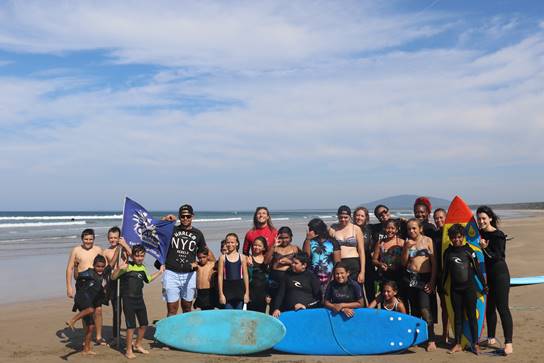 On Wednesday 21st, 22nd & 23rd of April, the Kool Kids Club headed to Gerroa once again for our annual Salt Water Dreaming Camp. Thank you for Surf Camp Australia, Surfing NSW and the Australian Government Department of the Prime Minister and Cabinet for making this possible.
This year we were excited to have taken a large group of 15 Kool Kids, 2 Switch leaders, 4 Staff and 3 incredible volunteers Faith, Nicole & Alana.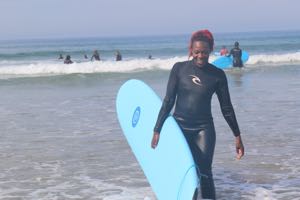 Wednesday morning we were up early packing the buses and getting everything organised to pick the kids up ready to hit the road. Keenan and Mel drove the two buses down with the kids as Evie, Lucy, & Faith with the help of Nicole & Alana did a fantastic job of putting up the tents, as well as preparing the camp spot for everyone.
The campsite was nicely set up upon the kid's arrival, as each kid jumped off and started unloading their gear so excited and pumped to surf! We started off with our normal routine of going over the camp rules & discussed this year's themes, which were CULTURE, FRIENDSHIP, & BE KIND TO ONE AN OTHER before getting dressed in their wet suits to head off down to the water to catch some waves.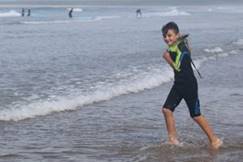 This camp we had a handful of new kids join us for the first time and it was so amazing to see them out in the water giving it their all and having so much fun in the water with the amazing Surf Instructors that help us out every year.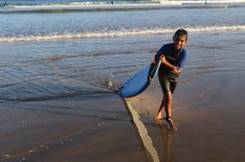 After wrapping up our first surf session, everyone did so well. We quickly got the kids back to the camp and had them showered, fed and all nice and rugged up for the movie night. The kids took their sleeping bags and pillows as they laid down by the outdoor blow up screen and enjoyed the movie 'Inside Out' under the stars.
After the movie, everyone brushed their teeth and got ready for bed. Every year the first night is the hardest to try and get them all to go to sleep but they eventually fall asleep after a few laughs and flickering of the torches inside their tents.
Thursday morning everyone was up bright and early getting dressed and prepared for another surf (it was perfect weather too by the way, we were very lucky).
We headed over to the camps outdoor kitchen and enjoyed a light breakfast. Afterwards we had the kids all suited up to head down for their second surf. As we reached the beach, and the kids were carrying their boards down, we were all so amazed at the beautiful weather that we were blessed with.
Our awesome surf Instructor Sam briefed the kids once again and psyched everybody up with a short game of bull rush in the sand to get us going. Before you knew it they were all fiercely paddling out into the water to catch some waves while some of our more experienced surfers tried some new fancy moves on their boards, which was so great to see.
What was more exciting to see also, was the new kids out there chasing the waves and learning to stand up on their boards for the first time with he help of the Instructors and workers. We got some really cool shots of those very proud moments.
After the surf we headed back to the camp site for some quick showers, lunch and then headed out to the National Park to have a guided tour by Aunty Dedre who once again did an amazing job talking about the Aboriginal history and heritage down along the South Coast as well as talking and sharing the different types of plants and bush tucker in the National Park. Aunty Dedre was also interested in hearing about our kids and their backgrounds and who their families were as well – it was really beautiful to see the kids being so respectful, engaged and listening to every word she was saying.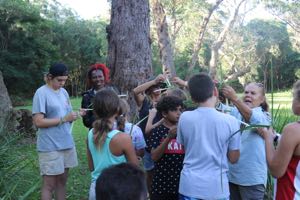 After the tour with Aunty Dedre, the kids kicked the ball around for a bit and enjoyed making some weaving fishes with different plant based materials. They loved it!
After the National Park we then headed back to our campsite. Some kids enjoyed some free time on the massive jumping pillow, some went on a little adventure to find small crabs while some kids just stayed in their tents and rested before we had our next Activities. After free time we then had our very own Kool Kids Worker Keenan facilitate a 'men's business' workshop with the boys which included the boys all designing a spear artefact with each one carving their name and design on it with a burner. On the other hand we had the beautiful Faith who kindly volunteered her time on camp to help out but who also did a fantastic job facilitating a Fashion workshop with our girls. She shared her journey with the girls and spoke about her background and experience as well as encouraging the girls to create their own brand ideas, clothing line and who also were their favourite style icons and their dreams. The girls were really interested and loved learning about fashion.
After the workshops, everyone had dinner and headed over to sit by the campfire. Every year we are so thankful to have Aunty Julie Freeman who is a well respected elder in the Illawarra region, come down and share her dream time stories which have been passed down from generation to generation in her family stemming from her late grandmother. The kids really love her stories and the way she expresses such humour and emotion. You can really tell that Aunty Julie has a deep connection and is passionate about sharing our culture with our future kids. I love that she is always encouraging our kids to dream big and to never forget that we are DEADLY. Some of the kids were really moved by her stories and even waited to give her a hug. One comment that I heard from one of the kids was 'Thank you Aunty Julie, for making me really appreciate what I have at home now'.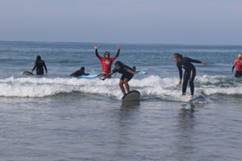 Everyone was so exhausted after the story time and surprisingly the kids went straight to bed and had a good rest. On Friday morning everyone was up early showered, packing their bags and already packing their tents up. It was a great team effort from everyone including the kids, getting everything packed down and straight back into the buses.
We then had our last breakfast before suiting up for the kids last surf. We had a couple of small injuries which left a couple of people out of the water but that did not stop the kiddies getting in the water one last time to smash out some waves! And my oh my did they rip it up. We were very lucky to have just gotten a little bit of rain, so glad it didn't rain on the tents this time! Everyone enjoyed their last surf and then headed back one last time to the Surf Camp for some delicious lunch and a quick presentation.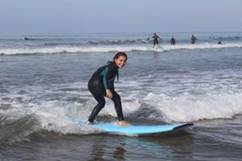 Each volunteer and each of the Kool Kids were recognised and was presented with an Attendance Award and we also had our stand out Awards, which were given out by the Kool Kids Workers.
The kids also proudly presented their special gifts to the Surf Camp and the amazing Instructors Sam & Tom who work tirelessly without fail to make our camp a safe and enjoyable experience for everyone each year. We are beyond grateful to have this opportunity not only once but TWICE a year to take our kids down, and see them build up their confidence, to thrive and learn so much about water safety, surfing and to see them immerse themselves more and more in their Identity and Aboriginal Culture. It is memories like these that will stay with them forever.
We would like to say a special thank you to GUY OLBOURNE and the whole team at Surf Camp Australia for generously sponsoring our camps each year, for looking after us and allowing our kids to have such an epic and unforgettable experience.
A massive thankyou to our incredible volunteers, Faith, Nicole & Alana from STAND UP for your hard work, commitment and dedication over the three days. More hands made lighter work and we really appreciated all of your help and input. It makes a huge difference.
Last but not least, thank you to our dream team, KKC's fearless leader Lucy and Keenan. We would like to specially thank our Mel for consistently working hard to ensure that this camp runs smoothly each year. Mel, you put in countless hours of work and so much effort behind the scenes for this camp and we appreciate all that you do. You are amazing.
Looking forward to the next camp in October! Yeeeeew.
Evie