12 Oct

Salt Water Dreaming Camp – October 2016

On Wednesday 5th, Thursday 6th and Friday 7th of October the Kool Kids Club went to Gerroa for our Salt Water Dreaming camp. Thank you Surf Camp Australia, Surfing NSW and  the Australian Government Department of the Prime Minister and Cabinet for making this possible.

A big thank you to Surf Camp Australia for sponsoring this incredible camp.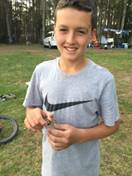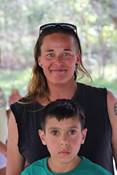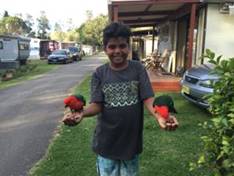 This time we took 13 Kool Kids, 4 Switch leaders, 4 staff and one amazing volunteer.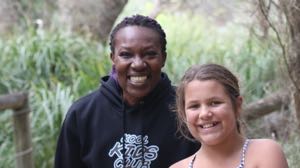 Early Wednesday morning we loaded one van with all the supplies and bags, which Beau, Faith and Emily drove to Gerroa. Lucy and Mel took two buses and picked up all the kids and drove them to Gerroa. Beau, Faith and Emily began putting up the tents while the kids were still on their way. It was a bit of a battle with the wind to get all the tents up before the kids arrived.
We all enjoyed sausages and sandwiches for lunch at Surf Camp once everyone had arrived. After a nice lunch we went back to our campsite and worked out who would be in what tents, grabbing our bags and setting up sleeping bags and mats.
We returned to Surf Camp to get wetsuits for kids and staff and then jumped on the busses heading for the beach. The weather conditions were not ideal for surfing as it was very windy so the surf instructors decided it would be better to go for a swim instead of a surf.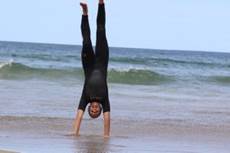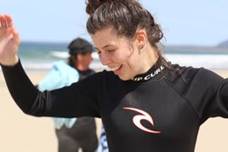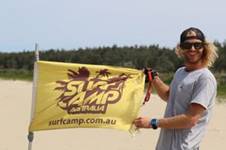 The surf instructors lead a few games of bull rush to get us all warmed up and then the kids all went for a swim. Every single one of them was excited to get into the water! After the swim the kids played more bullrush and tip on the beach until we had to go back to camp.The kids got changed, had a warm cup of tea and then played on the jumping pillow until dinner. After dinner we all gathered together at our campsite to listen to Aunty Julie Freeman share her dreamtime stories. We are so grateful and thankful to have Aunty Julie who is a well respected elder in the Illawarra region, come down and share her dream time stories which have been passed down from generation to generation in her family, stemming from her late grandmother. Aunty Julie is an exceptional storyteller and makes all the stories come to life in front of you through her use of nature and her ability to express humour and emotion in every dreamtime story she shares. All of the kids loved Aunty Julie's stories and some waited to give her a hug.Everyone settled into their tents for a good nights rest and two Switch leaders helped get everyone to sleep.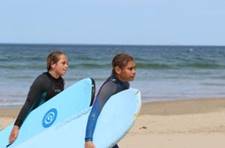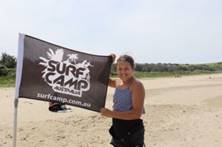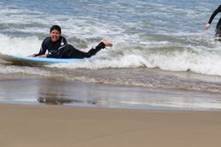 On Thursday morning everyone was up bright and early with swimmers on ready for breakfast and a surf. It was beautiful weather for surfing! After breakfast everyone played on the jumping pillow again,doing flips and playing bullrush, they love it so much.
Beau took the boys down to the river to go exploring and look for little crabs. They had an exciting time searching for the crabs in the water and mud.
Our fantastic volunteer, Faith facilitated a workshop with the girls. Faith gave each person a gratitude journal and we did an exercise where we wrote what our goals are and what we are grateful for on that day (the weather, warm cup of tea, each other). Faith also brought along synthetic purple hair to create braids in every girls hair which was a big hit. Even some of the boys wanted the purple braids.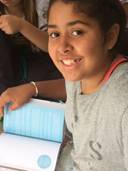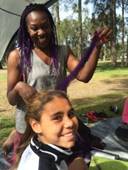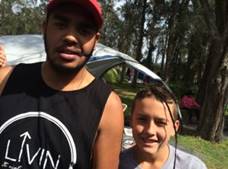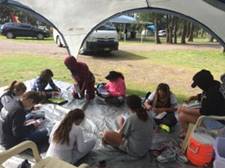 Then it was time to go surfing. You could see that all the kids were really excited for their first day of surfing. When we arrived at the beach the kids were straight into the water with a board. The surf instructors Sam, Luke, Tom, Millie and Isaac were amazing as usual, giving all the kids a helping hand. Everyone one gave it their all in the water, paddling hard, catching waves and some even doing awesome tricks.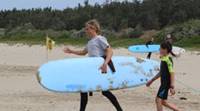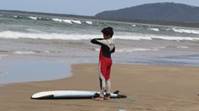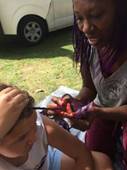 When it was time to head home we carried our boards up. Back at Surf camp the kids had showers, got changed, ate lunch and then we were back on the bus on our way to the National park for a workshop on bush tucker and Aboriginal culture. The kids listened respectfully and Jacob Morris the National parks guide did a fantastic job engaging the kids. It was great to see how interested he was in the kids and there backgrounds and families.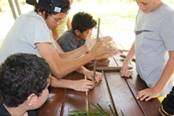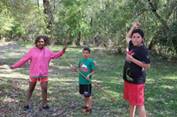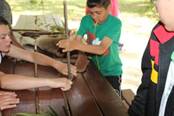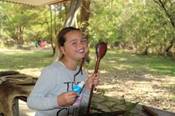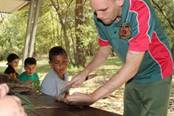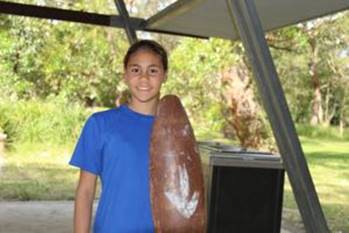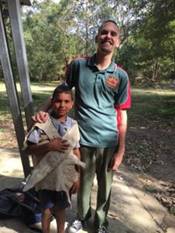 After the National Park we went back to our campsite for some free time on the jumping pillow, exploring, looking for crabs and then dinner. When everyone was full from dinner we settled down for popcorn and a movies. We watched 'footy legends' on the outdoors blow up screen. By the end of the movie everyone was exhausted from the big day we had.
First thing Friday morning everyone packed up their belongings and all the kids helped the workers pack away the tents. It was a fantastic team effort. Breakfast was eaten and everyone got ready quickly to go for the last surf. It was perfect weather for the last surf and all the kids were pumped to catch as many waves and spend as much time as they could in the water. The kids had so much fun laughing and cheering each other on when they stood up on the board.
The camp ended with a lovely presentation. Faith, each Kool Kid and every Switch leader were recognised and presented with attendance awards and stand out awards were also handed out. The Kool Kids presented the surf camp instructors with a special gift which was a Kool painted surf board.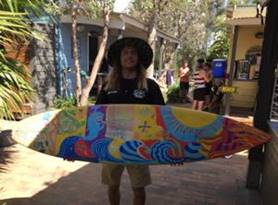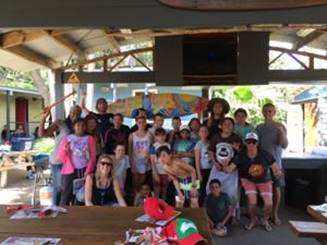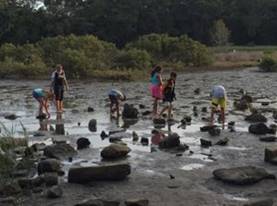 Surf camp instructors Sam,Tom, Luke, Millie and Isaac work tirelessly to make the camp a safe and enjoyable experience for everyone and they do a fantastic job engaging the kids. It is wonderful to see all the kids build up their confidence, learn new things and just have a great time.
We would like to say a special thank you to GUY OLBOURNE  and the whole team at Surf Camp Australia for generously sponsoring our camps each year, for looking after us and allowing our kids to have such an epic and unforgettable experience.
A massive thank you to our volunteer Faith, your enthusiasm and dedication over the three days makes a big difference.
Thank you to our Kool Kids Club leader Lucy who always bring energy and enthusiasm, Beau for your dedication and energy with the kids and to Mel who has put in so much hard work to ensure this camp runs smoothly.
Written by Emily Kool Kids Social Work placement student