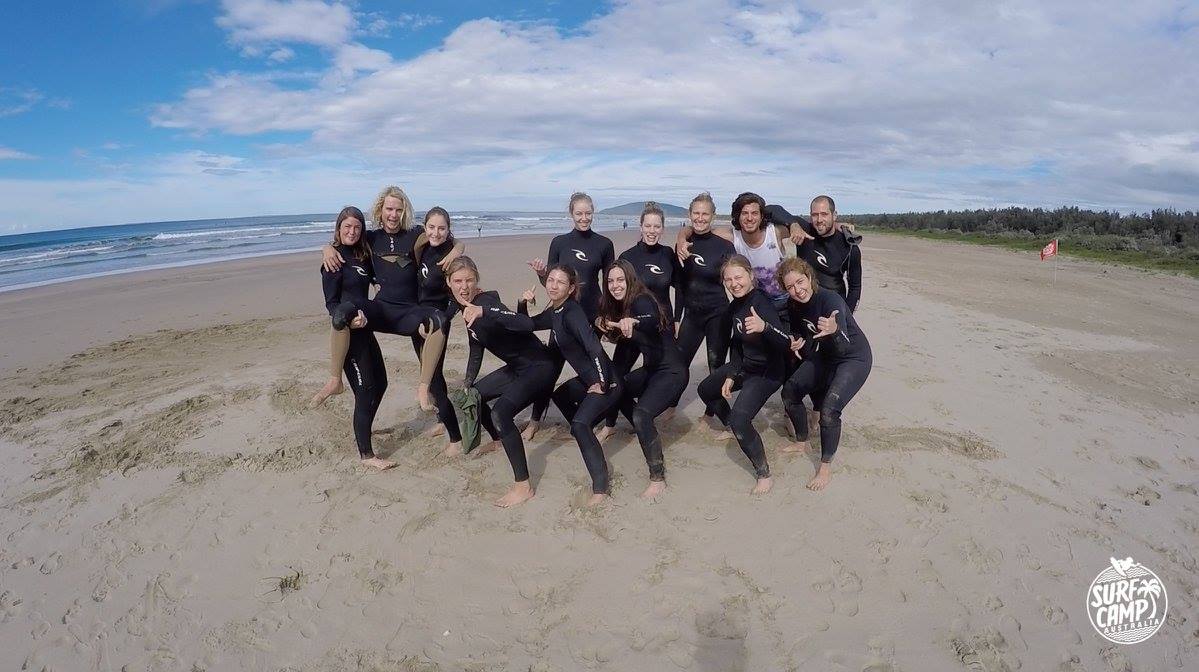 04 Oct

A Beginner's Guide to Surfing the East Coast – Part 1: Newcastle to Coffs Harbour

So, your adventure at surf camp has come to a close all too quickly, and you've realized that you've caught the surfer's bug! Good news for you, the fun doesn't stop here! We've created a beginner's guide to surfing the Australian east coast, jam-packed with the best spots to practice those board skills while traveling up the beautiful NSW coastline! Let's dive in!

First stop: Newcastle

There's no better place to kick off your east coast surfing adventure than a place like Newcastle. Known for it's many stunning beaches and two outdoor baths, Newcastle is a hotspot for all water sports and activities.

As far as beginner's surf spots go, your safest bet would be Nobby's Beach. A patrolled beach with gentler tides, Nobby's is a perfect place to nail the surfing basics in a beginner-friendly environment. The downside: it can get quite packed with other surfers, swimmers and beach-goers, so be prepared to make some friends!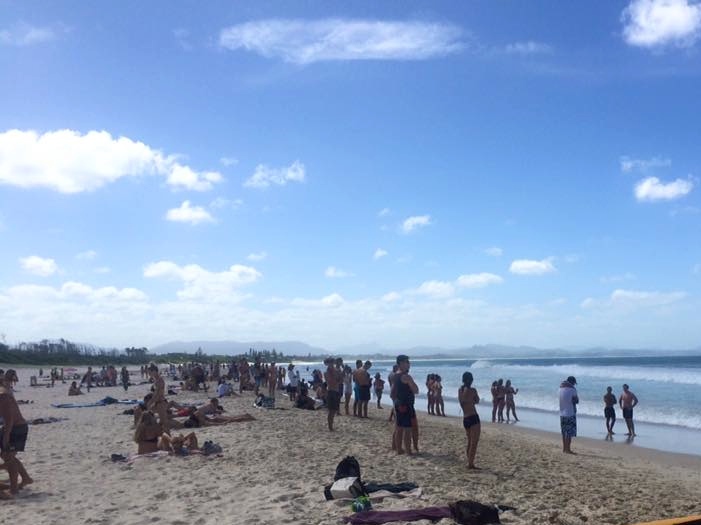 Crowds at Nobby's

Lookout point over the Newcastle coast!
If crowds are a deal breaker, not to worry! Two other great spots that we'd recommend are Merewether Beach and Stockton Beach.
Next up: Port Stephens
This region is a 30-kilometer stretch of white sand beaches, neighbored by the beautiful Tomaree National Park. It's known for its whale/dolphin watching attractions, so keep your eyes peeled!
If we're talking surf spots, our top pick would have to be One Mile Beach. A wide coastal stretch with gentle waves, One Mile is the ideal location for pro-surfers-in-the-making! We suggest that you stick to the south side of the beach if you're looking for the safest waves. You can work your way to the middle as you build your confidence in the water!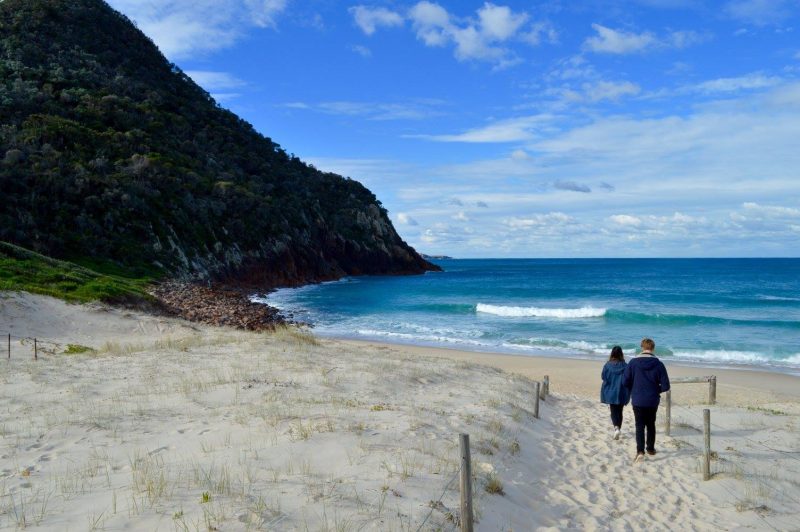 Port Stephens shoreline
If the waves at One Mile don't suit your level just yet, you might be interested in checking out Fingal Bay; it's a beautiful bay that tends to be a safer spot for beginners.
On to Seal Rocks
This remote region is quite the hidden gem, nestled within a small settlement along the Australian coast. Neighbored by Myall Lakes National Park, Seal Rocks is encompassed by beautiful natural scenery and is a great means of escaping the crowds of places like Newcastle.
If you're looking for surf spots in Seal Rocks, our first pick is Lighthouse. Lighthouse Beach is a curved, sandy stretch facing southeast, offering a coastal niche to suit beginners. Another great spot is Number One Beach; it's the first beach you'll see driving into Seal Rocks and is the safest one in the region.
Lighthouse Beach 
*photo by Kate Ayrton: <http://wandermelon.com/2010/05/20/to-the-lighthouse-help-save-seal-rocks/>
Seal Rocks earns part of its charm in its lack of crowds; however, keep in mind that these beaches are not patrolled, so it's important to surf safely!
Next stop: Port Macquarie
Port Macquarie is a haven for all things water. Here, you can explore anything from surfing to sail boarding to swimming to whale watching; you can even ride a camel! In addition to these recreational attractions, Port Macquarie also offers 15 stunning beaches—two spots in particular that are great for beginning surfers: Flynn's and Lighthouse Beach. Both beaches offer protection from strong winds, creating waves that are especially suitable for pro-surfers-in-the-making.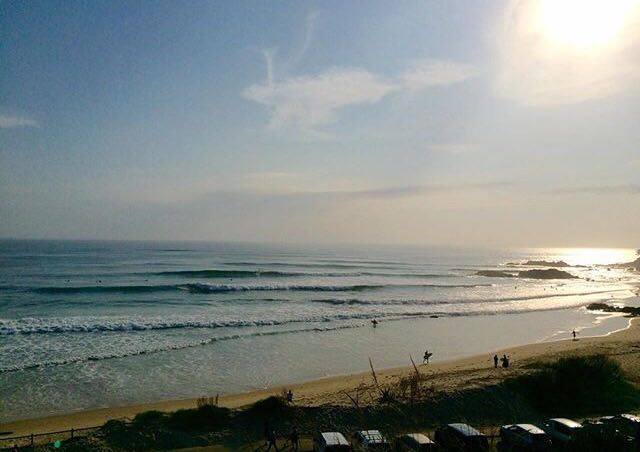 Port Macquarie at dawn
Apart from it's prime surf spots, the area is home to both the Koala Hospital as well as the Billabong Koala and Wildlife Park. These tourist attractions offer a great opportunity to learn about the wildlife and to meet some furry friends!
Last stop: Coffs Harbour!
Last but definitely not least; we finish this portion of the guide at Coffs Harbour. Because Coffs is adorned with coastal niches, it offers a variety of protected coves and harbours, making the area ideal for learning to surf! For beginners, we recommend a couple different spots in particular: Digger's Beach, Arrawarra, and Emerald Beach.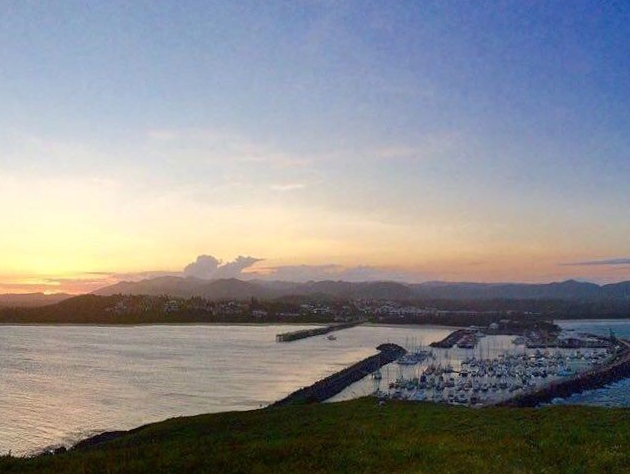 Coffs Harbour Marina at sunset
Digger's is quite a hotspot for beginners and is a great place to practice your skills. On the other hand, Arrawarra and Emerald are a little less packed if you're looking to avoid the crowds. Six different beaches line the perimeter of the harbour, so be sure to do some exploring!
And that's all we've got for now! But not to worry, the adventure doesn't stop here. Stay tuned for part two of our beginner's surfing guide to the Australian east coast. Until then, get in the water and chuck up those shakas!