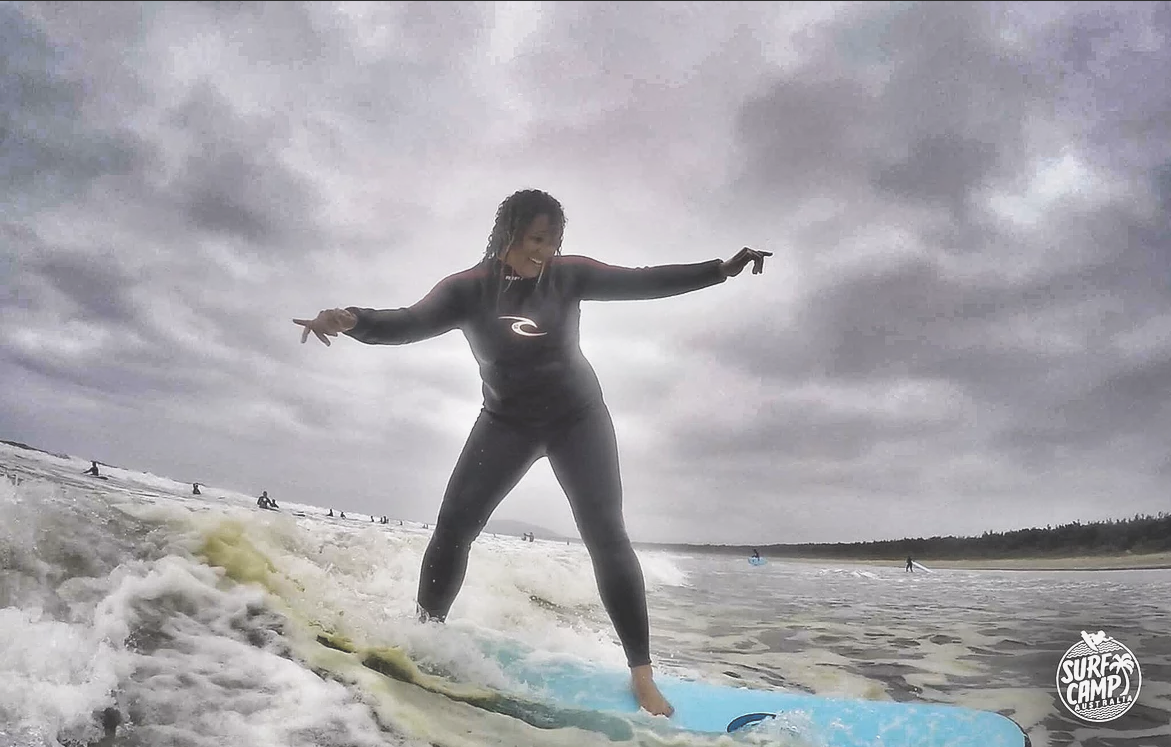 12 Nov

My Surf Camp Experience — Tanisha McDougall

I have always loved the water. Whether it is a swimming pool, a lake or the ocean, you would be hard-pressed to find a body of water that I won't want to be in. I have always jumped at the chance to participate in water sports, albeit not always successfully.

There have been a few tragic attempts at water skiing and my first attempt at surfing was less than graceful, (I swallowed enough water to fill a swimming pool and I may have flashed one or 50 unsuspecting beach goers) but they don't call me tenacious T for nothing. Ok so nobody calls me that, and for the love of all that is good, please do not start. Alliteration or not, I have never been one to back down to a challenge.

My second attempt at surfing was after a particularly gnarly night out in Lisbon. The waves were aggressive and I spent more time trying to fight my way out far enough to even attempt to get on my board than anything else. Luckily for me, a friend of mine mentioned that she had learned to surf while living and working at Surf Camp Australia.

When I found myself in Australia a few months later I knew I had to give it a go. I mean, if you go to Australia you need to learn to surf. It's like…the law! I was travelling with two of my girlfriends and we booked ourselves on the 3-day program they offered with visions of Blue Crush dancing through our heads.

(Sidebar: If you have not seen Blue Crush I will not explain it to you. Go watch it, it's a prerequisite for any surf related activity.)

Surf Camp is located in Gerroa, New South Wales. Smack in the middle of Seven Mile Beach, the surf is great for beginners and locals alike. Our journey took us by bus about 2.5 hours into what seems like the middle of nowhere. Upon arrival, we realized that the lack of cell phone service was real and began to think that we had made a tragic mistake. We persisted, nonetheless, and thank God we did.

Now let me tell you, waking up at the crack of dawn and putting on a wet, frigid wetsuit is not at the top of the list of things I enjoy doing, but these guys made it worth it. Surf Camp was a wicked little community of people doing what they love. Run by Luke and Jose, it was a healthy mix of Aussies and travellers who have created their own little family. These guys are also an absolute riot. From the coordinators, to the instructors, to the kitchen staff they had me laughing constantly. They are quick to welcome you into their little tribe and make jokes at your expense.

There is nothing fancy or over the top about Surf Camp, it's more of a bare bones operation but that's what I think makes it authentic. It's not your typical flashpacker spot (they have recently added in some deluxe packages for the princess within) but they give you everything you need. All your meals are provided and they do accommodate dietary restrictions. Your bunks are basic and the washrooms aren't the greatest, but you can walk into the campsite and use their washrooms. (Highly recommend) We lucked out through overbooking and ended up in a cabin on the campsite for the first three days and that my friends, was heavenly.
I'd like to tell you that after my first day I could basically walk on water, but that would be completely untrue. We were out there twice a day for 2 hours at a time, and you do truly get what you put into it. That is precisely why we extended our stay to five days. Thanks to the knowledge and persistence of the instructors I began to catch wave after wave. They give you the tools you need to develop the basic surfing skills you can grow from.  They give you the option to opt out of sessions if your body has taken a beating; they even offer yoga for surfers. I did not partake in these options since I was obviously busy channeling my inner Kate Bosworth.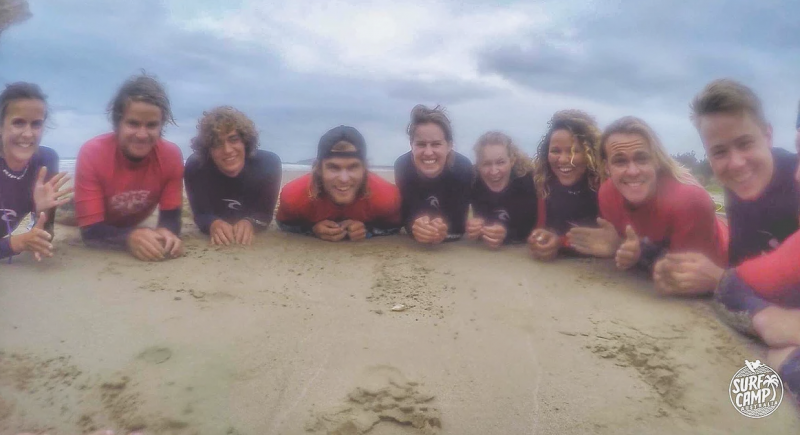 In all seriousness though, I left Surf Camp satisfied that I had caught a couple green waves and with a burning desire to continue surfing. If you have a chance to check it out, please do! These guys work incredibly hard for you and they truly love what they are doing.
Pro Tips:
Don't pee in your wetsuit- it's shared property, nobody wants to wear that.
If you're hungover, still show up – obviously the goal would be not to be hungover, but it's Australia. You will earn mad respect for showing up, even more so if you manage not to spew.
Don't skip breakfast in favour of more sleep – you need the energy to fuel your surf.
Don't be afraid to get to know them. They like it when the campers interact with them. Have a conversation, go watch them surf and socialize. They are a pretty incredible group of people.