20 Jul

Sydney Surf Experience

An Aussie bloke with an dream! In 1996 a young aussie bloke left Australia with a one way ticket and a sense of adventure. After 3 years of travelling, living and working all over the world, he landed back on Australian soil ready to make a dream reality. Sydney Surf Experience was created.

The Light Bulb moment!
Snowboarding in Canada is where it blossomed. Every surfer is drawn to the snow to shred the never ending frozen waves, and the best place to go was (and still is) Canada.
As an experienced server of beer back home , I was able to secure the ultimate job in a snow resort.  Being a bartender enabled you to shred all day and earn great money at night having fun with patrons from all over the world, full of fresh off the slopes stoke and a thirst for good times. How could you get sick of being around people with genuine happiness who were more than willing to " Tip" to token aussie serving up the liquid courage.
Snowboarding was booming in 1996. Even skiers were crossing over to the boarders lifestyle. The passion to try new sports was thick in the air, and as the " Aussie " behind the bar the common question was:
Q: what are you doing here?
A: just surfing the mountain mate.
This was quickly followed by the customer saying  that they would love try surfing in Australia. This happened a lot, and just like that the light bulb moment happened.
Share the Stoke!
The idea was to be able show people what I grew up doing most weekends and holidays. To shoot down the coast, surf on empty beaches, have a BBQ and share a beer with your mates. Than do it all again tommorrow while feeling that fresh off the beach " stoke " I felt back in Canada.
3 years later , 20+ countries visited and nunerous encounters with people dreaming to surf in Australia, Sydney Surf Experience was born in 1999 and later evolved into Surf Camp Australia in 2002. The formula worked and continues to share the same surfing passion today.
The 1st brochure.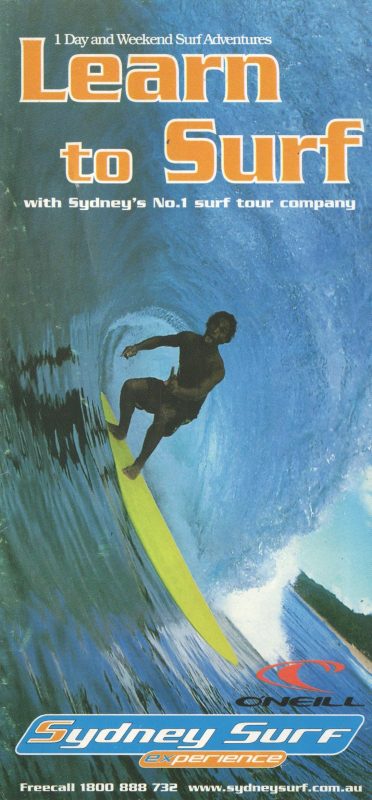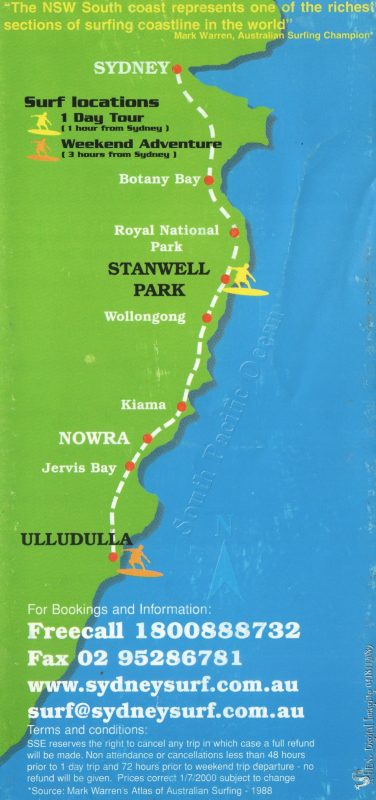 https://surfcamp.com.au/instructors/
Written by Guy Olbourne.
Founder and Managing Director