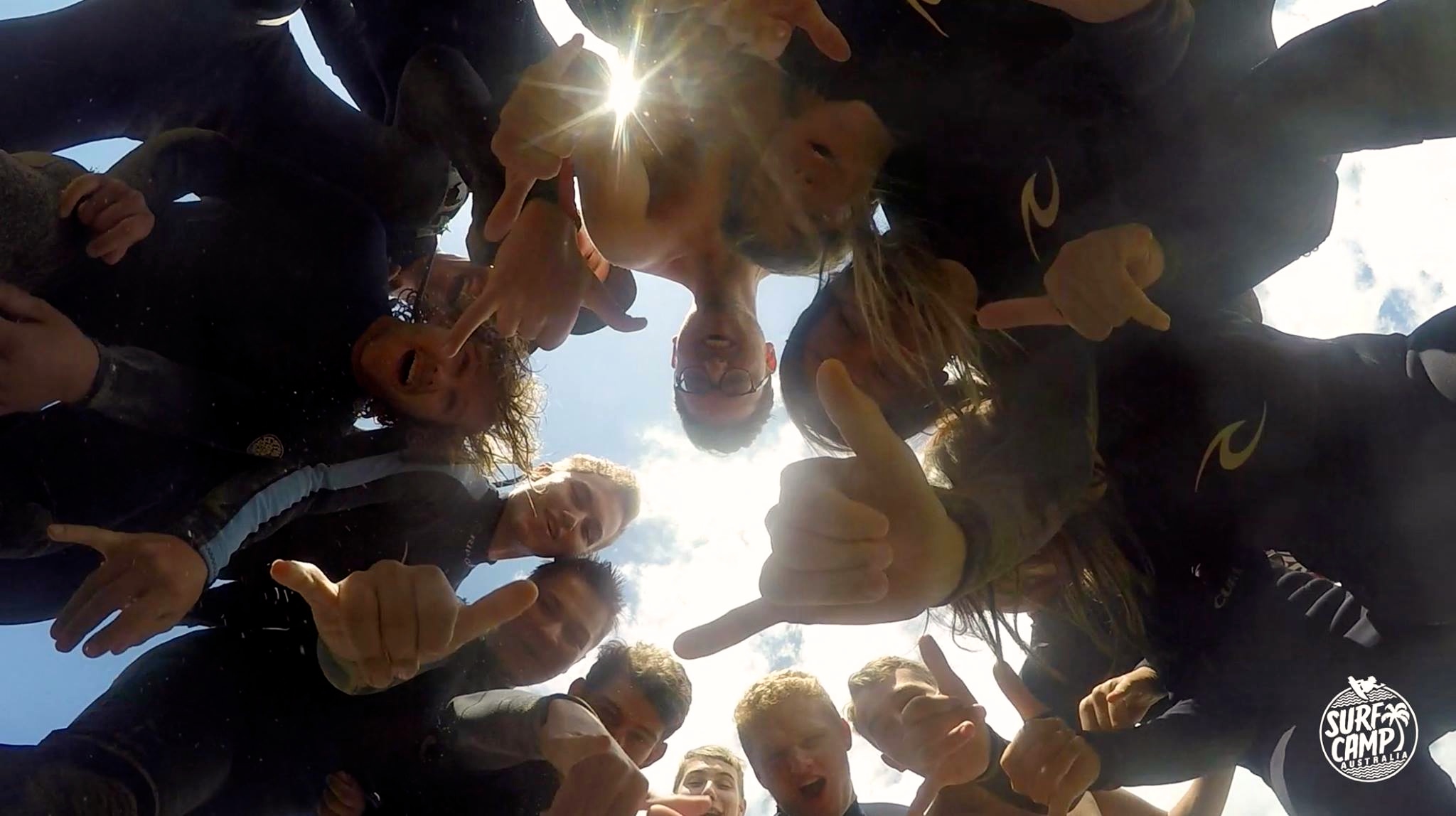 27 Oct

A Beginner's Guide to Surfing the East Cost – Part 3: Tweed Heads to Noosa

We're back again for the third and final portion of this beginner's surf guide to the east coast! Click the following to check out parts one and two! Here, we'll explore Australia's beautiful Gold and Sunshine Coasts as well as some of the country's most interesting cities. Let's get started!

First Stop: Tweed Heads

Tweed Heads is the furthest northern town before hitting the Gold Coast, and it also marks the northern coastal border of New South Wales. Tweed is a sister city of Coolangatta, the furthest southern town of the Gold Coast.

Tweed Heads is packed with great surfing beaches! Just south of the region is Fingal Head, a large recreational area offering several patrolled beaches. Dreamtime Beach is a long stretch with moderate protection from the headland, making for a quality and spacious surf spot. It's quite the secret paradise!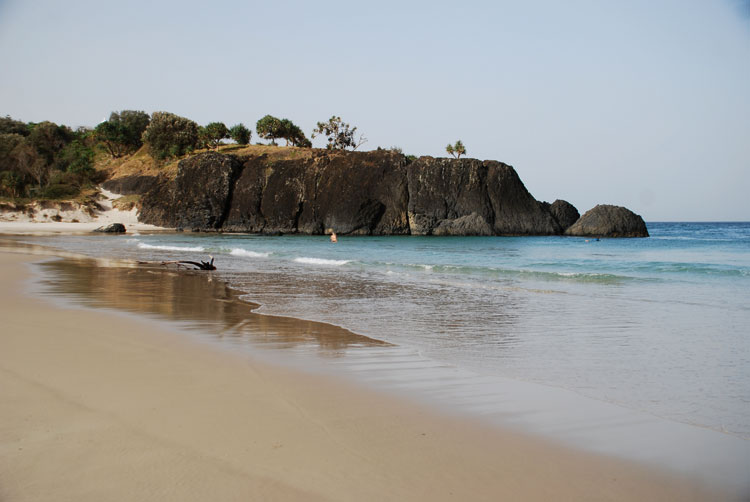 Secluded surfer's paradise!
*photo from Australian Traveller*
<https://www.australiantraveller.com/nsw/21-secret-beaches-in-sydney-and-nsw/>
Just north of Fingal, you'll find Duranbah Beach. Known locally as "Dee-bah", this beach is, arguably, the most consistent quality beach break on the Gold Coast. It picks up a decent swell but can be populated with locals, so we suggest that you keep closer to Fingal for a less cramped session.
Moving North: Welcome to the Gold Coast!
The Gold Coast is a stunning, 66 kilometer coastal stretch and is also major tourist stop for travelers of all kinds. Lucky for you, it's jam-packed with plenty of great surfing beaches!
Snapper Rocks is the most southernly beach of the Gold Coast, lying at the border of Queensland in the town of Coolangatta. It's an iconic surf spot, but is no place for beginners. Here we'd suggest that you sit back, relax and enjoy the beach!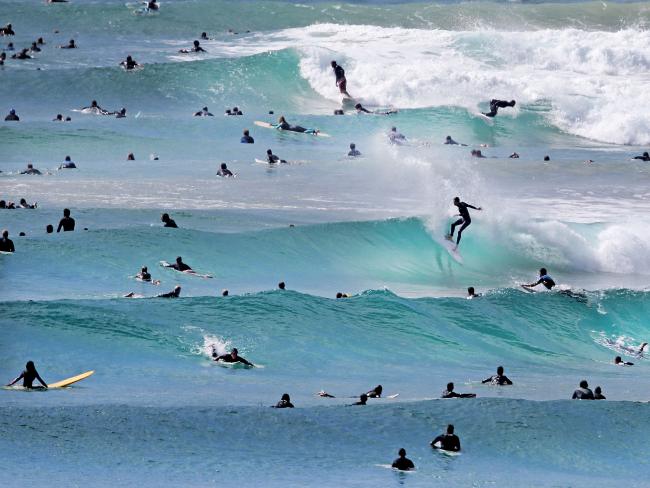 Snapper Rocks — check out those crowds!
*photo by Luke Marsden taken from The Daily Telegraph*
<http://www.dailytelegraph.com.au/news/nsw/coolangatta-offices-must-have-been-empty-yesterday-as-perfect-surf-conditions-pulled-a-crowd/news-story/66d29d5579a6b7eaac11645894c955f3>
If you're looking for a safer beach to surf, Currumbin Beach, also known as The Alley, is a great spot for beginners. It's neighbored by a creek, so stick to the middle of the beach to stay away from the more dangerous waves created near the creek mouth.
Burleigh Head is another very popular surf destination along the Gold Coast! It's usually quite crowded, but offers a strong swell. We'd definitely suggest checking it out, but if the point break doesn't suit your level yet, head over to the Burleigh beach break where you'll find a much less crowded bank with a more protected swell.
Brisbane
While Brisbane is not known for its surfing, it's a major travel stop along the east coast! Brisbane is both the capital as well as the most populous city in the state of Queensland. Additionally, it's sandwiched by two of the most beautiful surfing coasts of Australia—the Gold Coast and the Sunshine Coast. The city has a rich artistic, cultural and scenic personality, and is absolutely worth a visit during a trip up the coast!
Final Stop: Noosa
Noosa is a surfer's hub located along Queensland's beautiful Sunshine Coast. The area is neighbored by a national park which offers some stunning coastal scenery and native wildlife!
If we're talking surf spots, First Point offers a great long board break and a moderate swell, making it ideal for beginners. If you're looking for patrolled beaches, we'd recommend Sunrise Beach and Sunshine Beach; Sunrise is patrolled on the summer weekends while Sunshine is patrolled all week long. Sunrise is a little less crowded and more beginner friendly, while Sunshine is a populated 15 kilometer stretch with a larger swell.
Cloudless skies at Sunshine Beach!
*photo from Tourism Noosa*
<http://www.visitnoosa.com.au/members/sunshine-beach-real-estate>
On the other hand, if you're looking for a different, more secluded vibe, Castaways Beach is a bit less crowded than Sunshine and is quite popular amongst locals!
And that wraps up this surfing adventure! Australia's stunning and diverse east coast has so much to offer. Whether it's the counter culture of Byron Bay, the stunning scenery of Angourie Point, or the intense swell of Snapper Rocks, we hope that this comprehensive guide has helped you find exactly what you're looking for! So grab a board and live the motto: eat, sleep, surf, REPEAT! Cheers!